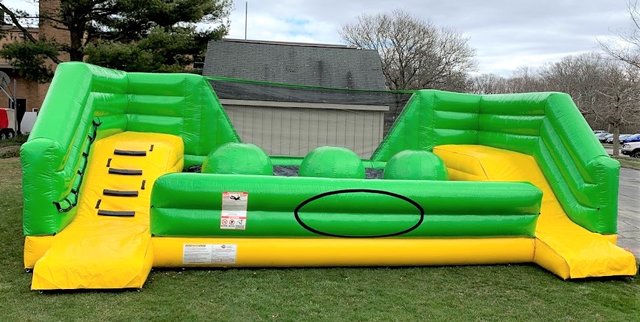 Leaps and Bounds
Have you ever wanted to try your skill on the big ball course on the hit show "Wipe Out"? Well, we have the exclusive on this obstacle! With the Wipeout Zone Big Ball Challenge, you're going to get your chance. This fun new game features a series of four inflatable red balls which challengers must jump across to reach the other side. Climb up the ladder on one of the side platforms above the ball pit. Then, try to cross the course by jumping or running across those big red balls. Your goal is to hop across all four big balls to the platform on the other side! Bust don't worry if you fall off! This ball is a super-soft jump zone cushioned by Zero-Shock technology. So, challenge all your friends to the Big Ball Challenge! Then wipe out the competition!
4 hour rental, staff included

Great for school, church, corporate, and backyard events
Recommended for ages 5 and up
Delivered on time, everytime
Zero shock technology to ensure safety of all competitors

Cleanliness guaranteed

Cancel anytime up until 8AM the morning of your event due to poor weather and receive a full refund of your desposit.

Some travel rates may apply
Specifications
Dimensions:
42ft. Long x 17ft. Wide x 14ft. Tall
Requires flat surface for installation. If setting up on a hard surface please let us know and we will bring heavy duty sandbags.
Must be within 80ft of a power source.