Our Inflatable Rentals Boston Bring the Family Together Every Summer
At Busy Bee Jumpers, we are a locally owned family-oriented business that has grown to encompass just about every type of inflatable rentals Boston can imagine. For over 20 years, we have been providing loads of fun to parties and events all over the Boston, Massachusetts area. As a family-owned business, we know just how important it can be to bring friends and family together, even if it is just a few times a year over the summer. One of the best ways to bring everyone together is to booking some inflatable rentals Boston kids go crazy over. Our inflatables are some of the best out there while still being very affordable.
You can choose and book the inflatable rentals for your party directly via our website within just a few minutes. Our team then delivers it to your party anywhere in the city, hours ahead of the party. So, nothing is getting in the way of you having lots of fun! Just browse around and find the perfect fit to suit the age group and party theme. We guarantee there is something for everyone when it comes to inflatable rentals in Boston MA, right here from Busy Bee Jumpers.
Order-by-Date

Modular Combos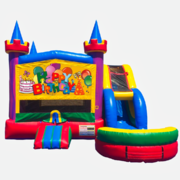 Obstacle Courses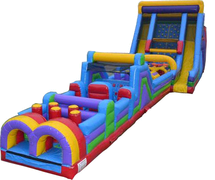 Bounce Houses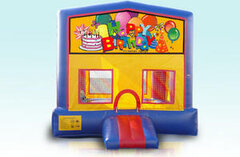 Tents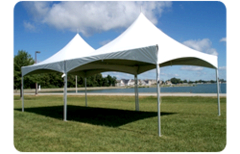 Wet or Dry Combos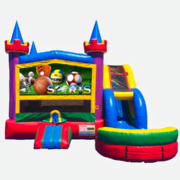 Water Slides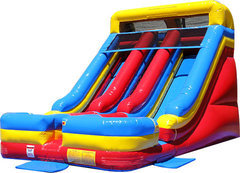 Tables, Chairs and Kids Furniture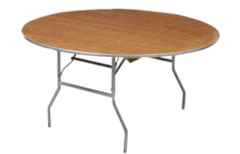 Interactives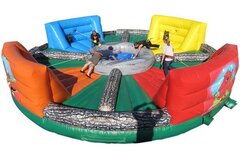 Fun Food Machines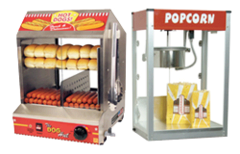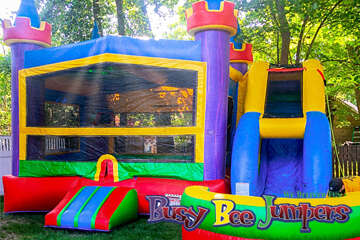 Choose From the Best Boston Inflatable Rentals
Planning a party can be stressful enough worrying about the cake, decorations, invitations and everything else so why not let Busy Bee take some of the stress of your back with the entertainment for the little ones. We have an amazing assorting of the best Boston inflatable rentals that are perfect to accommodate kids ages 3 and up. It doesn't matter the type of party or event because we have something for everything. Busy Bee is home to theme inflatable rentals for kid's birthday parties!
Being on a budget does not mean you can't have fun. In fact, we've worked hard over the years to ensure that our clients have the most fun with the latest and greatest inflatables that money can buy. Whether it is bounce houses, moonwalks, inflatable slides, etc., there are so many types to choose from that you can book one for events all throughout the year! What's even better is that you never have to break the bank to have fun.
Your next choice for an inflatable for rent Boston is just a couple of clicks away. We can also help you decide based on your budget, number of people, and your party's location. Just give our friendly staff a call or use the live chat function right on our website so you book your fun right on our website at your convenience from any device 24 hours a day.
Why Rent An Inflatable Boston MA From Busy Bee Jumpers?
One of the reasons why many people choose to rent an inflatable Boston MA from us is because we've got a pretty large selection of the most popular inflatables when it comes to shapes, sizes, and colors. Furthermore, we are on a mission to ensure that our inventory always has the latest and greatest that money can buy. That's why whether you are looking for a premium option, or something more budget-friendly, we've got them all.
Here are a few more reasons to choose our Boston inflatable rental:


Every inflatable is closely inspected and carefully installed by our professionals.


We always deliver your Boston inflatable rentals ahead of time so that they are ready for the party.


All our inflatables are competitively priced, which helps our clients save money.


All inflatables are sanitized before delivery.


Our excellent customer service means you can call us if you have a question or need help.


Book Boston Inflatables When You Need Them
Of all our Boston inflatables happen to be the most popular whether it's a basic standard jumper or a giant waterslide, we have them all. However, we hardly ever run out of inflatables, which is why if you're in a hurry to hire an inflatable, there is an excellent chance that you'll find them right here. We will just about guarantee we will have an inflatable for your event if you call to book early enough. That said, if there is a particular type of inflatable that you need and it's not listed on our website, we'll try to get it for you.
Our choices for an inflatable rental in Boston is perfect for:
Birthday Parties – Bounce houses happen to the most popular attraction at kids' birthday parties. We've got bounce houses and water slides for kids of all ages.
Backyard Bashes – We've got water slides and bounce houses that are ideally suited for having fun in the sun, in your backyard.
Corporate parties – Need loads of bounce houses and water slides for perhaps dozens of people? We've got you covered.
Don't wait, browse our website and choose which one is right for you. It's important to know the setup area available at the event location before choosing your inflatables. We also like to make sure you are selecting the right size that is matched with the age group of the kids. Let our friendly staff help if you are unsure which one to pick. With thousands of happy customers every year and tons of events under our belt, we are confident we can help you too. Trust us like the rest for their events by getting your inflatables Boston kids love right here from Busy Bee Jumpers.
Boston's Leading Inflatables Rental Company
At Busy Bee Jumpers, we are considered the best inflatable rental service in Boston. Not only because of the large selection of inflatables but also sensible pricing, excellent customer service, and timely delivery, all of which make us stand out from the rest. With over 20 years of experience and tons of 5-star reviews to back up our reputation, there is a reason why so many choose us year after year.
If you are searching for inflatables for rent in Boston or have a question about a particular type of inflatable, do not hesitate to call us right away. Our team of professionals is always here to answer your questions. We can also help you find out when a particular type of inflatable you're interested in will be available so that you can book it accordingly.