The Most Reputed Water Slide Rental MA and RI Offers
Wet Combo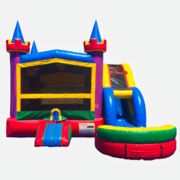 Blue Lagoon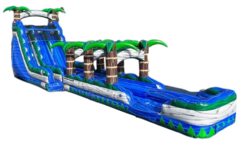 Big Kahuna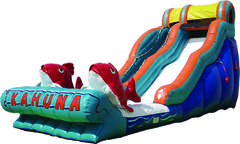 Double Splash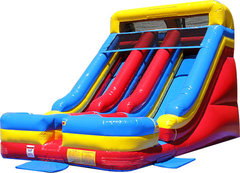 Dual Lane Tropical Slip and Slide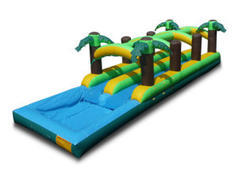 Big Splash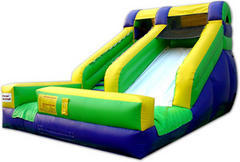 Single Lane Tropical Slip and Slide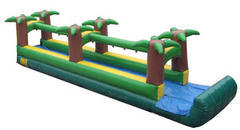 Lil Kahuna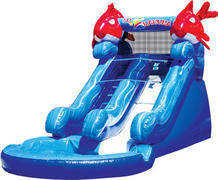 The weather has finally started to become warmer, and it's a great time to hire water slide rental in Massachusetts and Rhode Island. In fact, summer is the best time for just about anything including inflatable water slides, swimming, surfing etc. However, nothing beats enjoying the summers in your backyard with a group of friends. Fortunately, we've got the largest water slides and a pretty large selection of slides from which you can choose. Regardless of if you are a fan of those multi-lane, 22-feet high water slides or need something under 6-feet high for toddlers, we've got them all for your next party. What's more, is that not only do we have a large selection of various types of water slide rental but we've also got the latest and greatest. So, if you're looking for a premium option, our water slides nearby have you covered!
Busy Bee Jumpers is a locally owned and operated service that gives home and business owners the chance to rent a water slide rental near me, across any price range. Whether you are a homeowner on a limited budget or a brand that wants to spare no expense, we have the right water slide for you. In addition to the coolest water slides for rent, we've got loads of other inflatables like jump houses of various types and sizes.
Want to find out more about booking your next water slide rental? Call us today or send us your name and phone number so that one of our professionals can call you.
We've Got the Largest Selection for a Water Slide Rental Kids Go Crazy Over
Over the years, we've worked hard to make it easy and affordable for anyone to rent a water slide rental. In fact, summer is by far the best time to host a pool party in your backyard, and our water slides are the best way to do it. Over the years, our inflatable water slides have been the center of attraction for dozens of parties, at home, in parks and convention centers. Our massive assortment of water slides is of the highest quality, well maintained and affordable for just about everyone. We've also got slides for all budgets, so regardless of what you can afford, there is no reason why you can't have an inflatable slide. Speaking of which, we also have inflatable water slide rental for adults who dare to live on the wild side!
While it isn't hard to find water slides, what's important is having fun but doing so safely. At Busy Bee Jumpers, we take the safety of our team and clients very seriously. In fact, we make sure that every inflatable slide delivered across Massachusetts and Rhode Island is carefully checked and tested, ensuring that it is safe to be used at your party. We also sanitize and clean every rental both before delivery and after retrieving them. That way, we can be sure that the waterslide rental is safe for use by everyone.
Splash into Fun with Inflatable Water Slide Rentals in Massachusetts
At Busy Bee Jumpers, we believe that every event should be filled with laughter, excitement, and unforgettable memories. If you're looking to take your party or event to the next level, why not consider renting one of our incredible inflatable water slides? Whether you're a parent planning a birthday bash, a business owner hosting a corporate retreat, a teacher organizing a school field day, or even a pastor arranging a community gathering, our water slides are the perfect addition to your event. Let's dive in and explore why inflatable water slide rentals are a must for various types of parties and events in the Massachusetts area.
For Parents: Birthday Splash Extravaganza - Make a Splash at Your Kid's Birthday Party!
Are you a parent planning your child's birthday celebration? Imagine the look of pure joy on your little one's face as they slide down a giant water slide into a refreshing pool. Our inflatable water slides turn ordinary birthday parties into unforgettable splash-tastic adventures. Keep the kids cool and entertained on hot summer days, all while creating cherished memories that will last a lifetime.
For Business Owners: Corporate Cool-Down Retreat - Boost Team Morale with a Corporate Water Slide Retreat
As a business owner, fostering a positive work environment and boosting team morale is crucial. What better way to achieve this than by organizing a corporate retreat with a twist? Our water slides add an element of fun and excitement to team-building events, company picnics, and employee appreciation days. Strengthen relationships among your staff as they bond over thrilling rides and laughter-filled splashes.
For Teachers: Wet and Wild School Field Day - Take School Field Days to the Next Level!
Teachers, are you tired of the same old school field day activities? Inject a dose of excitement into your students' experience with inflatable water slides. Whether it's the end-of-year celebration or a special event, our water slides create an unforgettable atmosphere of fun and adventure. Watch as students laugh, slide, and enjoy a break from their routine studies.
For Pastors: Community Splash Bash - Unite Your Congregation with a Splash Bash!
If you're a pastor looking to bring your community together, consider hosting a Splash Bash. Our inflatable water slides provide a fantastic opportunity for church picnics, summer camps, or community outreach events. Bring families closer as they bond through the shared joy of cooling off and having a great time. It's a wonderful way to strengthen the ties within your congregation.
No matter who you are or what type of event you're planning in Massachusetts, inflatable water slide rentals from Busy Bee Jumpers can elevate the fun factor to new heights. From birthday parties to corporate retreats, school field days to community gatherings, our water slides are the ultimate source of entertainment and excitement. Contact us today to make your event a splashy success that everyone will be talking about for years to come. Let's turn your event into a wet and wild adventure!
The Busy Bee Promise for Renting a Water Slide
Well, there are many reasons to choose us for a water slide near you; one of the reasons is that we have one of the largest selections of inflatable water slides in the city. Not only that, but our service comes backed by a team of professionals who have your back every step of the way. However, some of the most popular inflatable water slide rentals in our inventory are the largest ones too. In our opinion, people enjoy the thrill of sliding down a 22-feet tall slide, and it's something that kids enjoy just as much.
In addition to some of the largest water slide rentals, we also have other party rentals like lights, tents, concessions, tables etc. You can book water slides directly via the website, and we'll make sure it is delivered to you. However, we are also available if you have any questions about our service.
Looking for a specific type or style of water slide, and you can't find it? We can help you! Single lane or dual lane, give us a call!
Why Choose Busy Bee Jumpers for Your Water Slide Rental?
Unmatched Selection of Water Slides
At Busy Bee Jumpers, we take pride in offering a diverse range of inflatable water slides that cater to various preferences and space constraints. From towering slides with twists and turns to compact options suitable for smaller venues, our extensive selection ensures that you find the perfect water slide to suit your event's needs and wow your guests.
Safety is Our Priority
When it comes to inflatable water slide rentals, safety is paramount. Our team at Busy Bee Jumpers prioritizes safety above all else. We meticulously clean and inspect our water slides after every use, ensuring they meet the highest safety standards. Additionally, our experienced staff will set up and supervise the equipment throughout your event, giving you peace of mind.
Affordable Pricing
We believe that fun shouldn't break the bank. That's why we offer competitive and transparent pricing for our water slide rentals. We strive to provide high-quality entertainment options without putting a strain on your budget. At Busy Bee Jumpers, you get great value for your money.
Exceptional Customer Service
From the moment you inquire about our services to the completion of your event, we are committed to providing exceptional customer service. Our team is responsive, friendly, and dedicated to making your rental experience seamless. We are here to answer your questions, address your concerns, and ensure that your event runs smoothly.
Timely Delivery and Setup
We understand the importance of punctuality when it comes to event planning. You can rely on Busy Bee Jumpers to deliver and set up your inflatable water slide promptly. We'll work closely with you to coordinate the logistics and ensure that everything is ready to go when your event begins.
Cleanliness and Hygiene
Hygiene is of utmost importance, especially when it comes to water-based attractions. Rest assured that our water slides are thoroughly cleaned and sanitized before each rental. We go the extra mile to provide your guests with a safe and hygienic experience.
Experience You Can Trust
With years of experience in the industry, Busy Bee Jumpers has established itself as a trusted name in inflatable water slide rentals. Our track record speaks for itself, and we take pride in our role in creating unforgettable memories for countless events throughout Massachusetts.
Customizable Packages
Every event is unique, and we understand that your needs may vary. That's why we offer customizable rental packages. Whether you need additional party equipment, entertainment options, or specific delivery arrangements, we'll work with you to tailor a package that suits your event perfectly.
When it comes to choosing a water slide rental provider in Massachusetts, Busy Bee Jumpers stands out as the top choice. Our commitment to safety, affordability, exceptional customer service, and a wide selection of water slides sets us apart. Let us bring the fun and excitement to your next event. Contact us today to book your inflatable water slide rental and experience the Busy Bee Jumpers difference! Your satisfaction is our ultimate goal.
Water Slide Rentals That Guarantee Fun for The Whole Family
We have been the source of affordable water slides and residents around the communities sure know it for over a decade. Busy Bee Jumpers continues to be the company of choice for people looking for the right water slide for their party. That's why our waterslides are a popular feature at church fundraisers, school events, brand events and parks in your area.
We have a team of dedicated experts who make sure that when you rent a waterslide it is safe to use. Plus, our water slides rentals are delivered and then set up by professionals. A professional installation ensures that nothing will go wrong. As a home or business owner, you don't have to worry about getting the equipment set up and then removed from your property.
Choosing the Perfect Water Slide for Your Event: Sizes, Colors, Themes, and More
At Busy Bee Jumpers, we understand that every event is unique, and choosing the right water slide is essential to make your occasion a hit. With a wide range of sizes, color schemes, themes, and features to choose from, we're here to guide you in selecting the perfect water slide that complements your party or event. Let's dive into the options available to help you make an informed decision:
Size Matters:
Single Lane Slides: These are ideal for smaller spaces or events with a limited number of guests. They offer a single sliding lane for endless splashing fun.
Double Lane Slides: Double the lanes mean double the excitement. Perfect for larger gatherings, these slides allow friendly races and competitions.
Mega Slides: For the ultimate thrill, consider our mega-sized slides, featuring multiple lanes and towering heights. These are sure to be the centerpiece of your event.
Color Schemes:
Bright and Vibrant: Our water slides come in a variety of eye-catching colors that can match the festive atmosphere of your party. Choose from bold primary colors or pastel hues to suit your event's theme.
Tropical Paradise: If you're planning a luau or tropical-themed party, opt for water slides with vibrant tropical color schemes, complete with palm trees and exotic designs.
Under the Sea: Dive into an aquatic adventure with water slides featuring shades of blue and underwater-themed graphics, perfect for summer pool parties.
Themes and Graphics:
Pirate Adventure: Set sail on a pirate-themed water slide complete with pirate ships, cannons, and treasure chests. It's perfect for little buccaneers and adventurous souls.
Princess Castle: Transform your event into a fairytale wonderland with water slides adorned with princess castles, tiaras, and magical creatures.
Jurassic Journey: Travel back in time with dinosaur-themed water slides featuring T-Rexes, Velociraptors, and prehistoric landscapes, ideal for budding paleontologists.
Superhero Spectacle: Let your little heroes take flight on superhero-themed water slides featuring iconic characters and comic book graphics.
Features and Add-Ons:
Splash Pools: Many of our water slides come with attached splash pools at the base for a refreshing landing. It adds an extra element of fun and safety.
Climbing Walls: Some water slides include climbing walls, offering a fun challenge before the slide down. It's perfect for adventurous kids and adults alike.
Obstacle Courses: If you're looking for more than just a slide, consider our inflatable obstacle courses with water elements. They're great for team competitions and thrilling challenges.
Age-Appropriate Options:
Keep the age group of your guests in mind. We offer water slides suitable for various age ranges, from toddlers to adults, ensuring everyone can join in the fun.
Space Considerations:
Make sure to measure your event space to determine which size of water slide will comfortably fit without crowding your area.
Remember, the right water slide can transform your event into a memorable experience for all your guests. Whether you're planning a birthday party, corporate event, or community gathering, our diverse selection ensures you'll find the perfect water slide to match your party's theme, size, and color preferences. Contact Busy Bee Jumpers today, and let's turn your event into a splash-tastic adventure!
Booking Your Water Slide with Busy Bee Jumpers Made Easy
We have worked hard to make it immensely easy for clients to find, book and get the water slides they want delivered to their doorstep. Our online booking system is designed to show you all the waterslides available for the date of your party. However, we often ask that clients book their inflatables weeks in advance during summer, owing to how popular they can be, especially during the summer. That said, we rarely run out of water slide rentals!
Are you ready to make a splash at your next event with an inflatable water slide from Busy Bee Jumpers? Booking our water slides is a straightforward process designed to make your event planning experience as smooth as possible. Here's a step-by-step guide on how to book your water slide rental with us:
Visit Our Website: Start by visiting our user-friendly website at www.busybeejumpers.com. Our website is your one-stop destination for all the information you need about our water slides, pricing, and available rental options.
Browse Our Selection: Explore our wide selection of inflatable water slides. We provide detailed descriptions and high-quality images of each slide to help you choose the one that best suits your event's theme, space, and guest age group. Take your time to compare and find the perfect fit.
Check Availability: Once you've chosen the water slide that suits your needs, check its availability for your desired date and location. You can do this easily on our website by clicking on the "Check Availability" button associated with your chosen slide.
Get a Quote: Next, request a quote by clicking on the "Get a Quote" button. Fill out the required information, including your event date, location, and any additional services or equipment you may need. We'll provide you with a detailed quote, including all costs associated with your rental.
Contact Us: Review the quote and make sure it aligns with your event budget and requirements. If you have any questions or need further assistance, don't hesitate to reach out to our friendly and knowledgeable customer service team. We are here to help you make informed decisions and ensure your event goes off without a hitch.
Confirm Your Booking: Once you're satisfied with the quote and ready to proceed, confirm your booking with Busy Bee Jumpers. Our team will guide you through the booking process, collect any necessary information, and provide you with a confirmation of your rental reservation.
Payment and Deposit: To secure your water slide rental, we'll require a deposit. You can conveniently make the payment online through our secure payment system. We accept various payment methods for your convenience.
Delivery and Setup: On the day of your event, our experienced team will arrive at your location at the scheduled time to deliver, set up, and inflate your water slide. We take care of all the logistics, leaving you free to enjoy your event.
Enjoy Your Event: With your water slide in place, it's time to enjoy the fun! Our team will ensure that the water slide is safe and ready for use. Throughout your event, our staff will be available for any assistance you may need.
Pickup and Cleanup: At the end of your event, our team will return to your location to deflate and remove the water slide. We handle the cleanup, so you can focus on the post-event festivities.
Booking a water slide with Busy Bee Jumpers is a hassle-free experience, and we are dedicated to making your event a success. Get started today by visiting our website, exploring our fantastic water slide selection, and requesting a quote. Let's make a splash at your next event together!
Once you have gone through the steps above, one of our team members may also get in touch with you. The goal for us is to confirm your reservation and the delivery window. However, you can also add loads of other inflatables and party rentals to the mix.
The Best Water Slides in the Area Are Just a Click Away
We offer home and business owners a quick and hassle-free way to book the best water slides in your area that they need. At Busy Bee Jumpers, you have a wide selection of budget-friendly and high-quality premium inflatable waterslides. We've also got multiple pieces of the same type if you need them. Also, we rarely run out of waterslides because of the sheer inventory we carry. So, whether it is a backyard party or a summer block party or school water field day, we've got more than enough water slides for you.
We've got wet slides for kids and young adults alike. Furthermore, we've got loads of other party equipment making us a one-stop solution for all your party needs! We have a team of seasoned experts who can help you choose the right rentals for your party and ensure they are delivered ahead of time.
Want to discuss booking the next water slide? Need a quote for a large order, perhaps? Then do not hesitate to call us today for a quote or to discuss your upcoming party. We can also help you track an order or reschedule delivery.
Frequently Asked Questions About Renting a Water Slide
Renting a water slide for your event is an exciting choice that can add a whole new level of fun and entertainment. To help you make an informed decision and ensure your rental experience is smooth, we've compiled a list of frequently asked questions about renting a water slide:
How Do I Choose the Right Water Slide for My Event?
Consider the age group of your guests, available space, and any specific themes or preferences for your event. Our team can also provide guidance based on your needs.
Are Water Slides Safe for All Ages?
Yes, many water slides are designed with safety in mind and are suitable for various age groups. Make sure to follow any age and weight restrictions provided by the rental company.
What Are the Rental Rates for Water Slides?
Rental rates can vary based on the size, type, and duration of the rental. Request a quote from the rental company to get an accurate estimate of the cost.
How Far in Advance Should I Book a Water Slide?
It's advisable to book your water slide as far in advance as possible, especially during peak party seasons. Some popular dates may book up quickly, so plan ahead.
Do I Need to Provide Water for the Slide?
Yes, you will need a water source nearby to connect to the water slide. Rental companies typically provide the necessary hoses and connectors.
How Long Can I Rent a Water Slide For?
Rental durations can vary, but most companies offer full-day rentals. Some may also offer half-day rentals or extended rental options.
Is Setup and Takedown Included in the Rental Price?
Yes, most rental companies include delivery, setup, and takedown in the rental price. Be sure to confirm this when booking.
Are Inflatable Water Slides Easy to Maintain?
Inflatable water slides require minimal maintenance during your event. Rental companies handle the setup and maintenance, ensuring the equipment remains in good condition.
What Happens if It Rains on the Day of My Event?
Many rental companies have a rain policy in place. It's essential to discuss this with your rental provider in advance to understand your options.
Can I Rent a Water Slide During the Winter Months?
While water slides are primarily associated with summer, some rental companies offer winterized options suitable for indoor use or milder climates.
Are There Any Safety Precautions I Should Be Aware Of?
Follow all safety guidelines provided by the rental company, including weight limits, user capacities, and proper usage instructions. Supervise children at all times while they're on the slide.
Can I Cancel or Reschedule My Rental?
Rental policies regarding cancellations and rescheduling can vary among companies. It's important to understand the terms and conditions outlined in your rental agreement.
What Happens if the Water Slide Gets Damaged During My Event?
Accidents can happen. Rental companies typically have policies in place for accidental damage. It's essential to communicate any issues immediately to the rental provider.
Renting a water slide can elevate your event and create unforgettable memories. If you have any additional questions or concerns, don't hesitate to reach out to your chosen rental company. They will be happy to provide you with the information and support you need to ensure your water slide rental experience is a splashing success!
Customer Testimonials: What Our Clients Say About Us and Our Waterslides
At Busy Bee Jumpers, we take immense pride in delivering top-notch service and creating unforgettable experiences for our customers. Here are some testimonials and reviews from our satisfied clients based on our Google Maps listing:
Sarah T. (⭐⭐⭐⭐⭐): "Wow! Busy Bee Jumpers made my son's birthday party a hit! The water slide we rented was clean, safe, and tons of fun. The delivery and setup were prompt and hassle-free. Thank you for making it a day to remember!"
Mark R. (⭐⭐⭐⭐⭐): "I was tasked with organizing our company's annual picnic, and I decided to go with a water slide rental from Busy Bee Jumpers. It was a fantastic choice! The team was professional, and the water slide added a whole new level of excitement to our event. Highly recommended for corporate gatherings!"
Lisa M. (⭐⭐⭐⭐⭐): "I can't thank Busy Bee Jumpers enough for making my daughter's princess-themed party a dream come true. The water slide with the castle theme was perfect, and the kids had a blast. The setup team was friendly and efficient. We'll definitely be using their services again!"
Robert P. (⭐⭐⭐⭐⭐): "The water slide we rented for our community's summer bash was a huge hit! Busy Bee Jumpers provided excellent customer service from start to finish. The slide was clean and well-maintained, and the kids absolutely loved it. We're already planning to book for next year!"
Jennifer S. (⭐⭐⭐⭐⭐): "I had some concerns about safety when renting a water slide, but Busy Bee Jumpers put my mind at ease. They were thorough in explaining safety measures and even had staff on-site to supervise during our event. It made all the difference, and the kids had a blast. Thank you for a worry-free day!"
These testimonials reflect our commitment to delivering outstanding service and ensuring that every event we contribute to is a memorable success. We are grateful to our customers for their trust and positive feedback, and we look forward to continuing to provide top-quality inflatable water slide rentals for all your future events.