Obstacle Courses
The No. 1 Selection for an Inflatable Obstacle Course Boston Kids Love
Adrenaline Rush Obstacle Course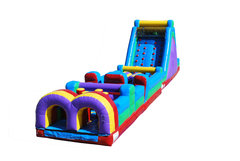 Backyard Obstacle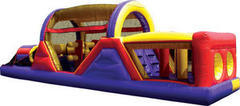 Rock Climb and slide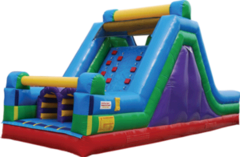 30ft Obstacle Challenge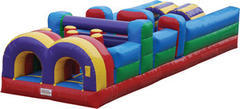 24' Vertical Rush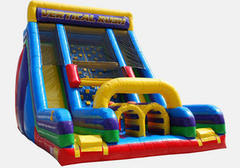 Vertical Rush 30ft Obstacle Course Combo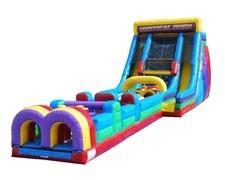 Vertical Rush Rock Climb Combo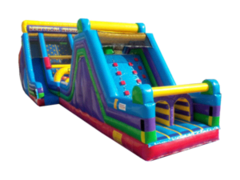 Vertical Rush - Adrenaline Rush Combo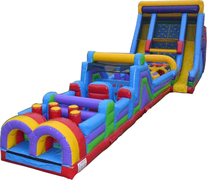 Vertical Rush - Adrenaline Rush 2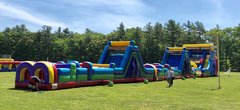 Inflatable Corn Maze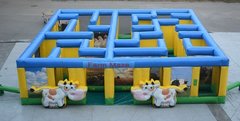 Xtreme Adrenaline Run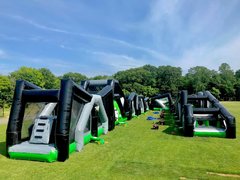 Are you looking for a challenging, high-quality and entertaining obstacle course Boston? Well, then you have certainly come to the right place. We have some of the best, most challenging, and entertaining obstacle courses Boston. Our obstacle courses are available in different styles, sizes and difficulty levels, making them perfect for Graduation parties, birthday particles, church events, and school functions for all of Massachusetts. What's more is the fact that every bounce house is reasonably priced, in excellent condition and delivered by our team to your doorstep.
The other feature that makes our obstacle course rentals Boston stand out from all the others is finding and renting what you need is very easy. Our website lists all the available obstacle course Boston and is updated with the latest ones as they become available. We've also got a large selection of Themed Bounce Houses in Boston, which will most certainly put a smile on your child's face.
Affordable Obstacle Courses Boston Events Needs
Obstacle Courses - On your mark, get set, GO! Add fun and excitement to your next party with one of Busy Bee's obstacle courses! Like our 40ft Backyard Obstacle one of our most popular obstacle course rentals. Get everyone racing with any of our many options, from backyard parties to large school and corporate events! Busy Bee will deliver and setup theses large obstacles, all you need to do is be ready to have some fun!
We also provide staffing for an additional cost if you would like our staff to watch over the obstacle throughout your event, and have peace of mind that everything is going smoothly! Don't miss out, call us today and add some friendly competition to your next event!
Want to learn more about our kids indoor obstacle course Boston? Call today and speak to one of our customer service representatives. We'll be more than happy to answer any questions you might have.
The Coolest Boston Obstacle Course Rentals Around
At Busy Bee Jumpers, we take great pride in being one of the leading Boston obstacle course rental companies. We offer both free delivery coupled with free setup of all inflatables, including obstacle courses. What's more, is the fact that we always deliver on time and our team makes sure that the obstacle course is set up ahead of the party. All we need is to know is your location and when the party is scheduled.
Furthermore, we've got Boston obstacle course for kids, teens and adults alike. In fact, our adult obstacle courses Boston happens to be one of the most popular. It is often hired by young adults who enjoy competing for fun. However, the obstacle courses are large enough to be used by anyone.
We've also got obstacle courses Boston that run in both directions and some of the largest ones joining our roster soon. So, there is a lot to look out for when choosing to rent an obstacle course from us.
The Best Kids Obstacle Course Rental in Boston, MA
We have some of the largest selection of kid-oriented obstacle course Boston, MA that are perfect for birthday parties or when the cousins plan to get together. Each obstacle course has something different to offer in terms of entertainment and challenge.
Our team makes sure that every obstacle course rentals Boston is thoroughly checked for defects and problems. The team also sanitizes and cleans every obstacle course before delivery. That way you can be sure that everyone at the party is safe.
Whether you want to rent a single obstacle course Boston, MA, or several, we have more than enough for everyone. Call us today to book an obstacle course, get a quote, or you can choose to do everything online. Our team will then make it a point to deliver the obstacle course at your doorstep, set up and ready to go!