Tables, Chairs and Kids Furniture
A Large Selection of Elegant Table and Chair Rentals Boston
White Folding Chairs - Bundles of 10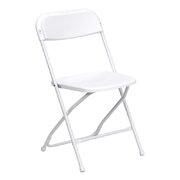 5 ft Round Table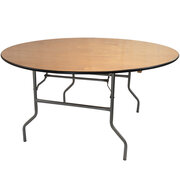 4 ft Round table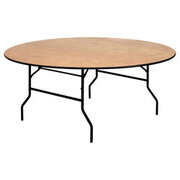 8ft Banquet Table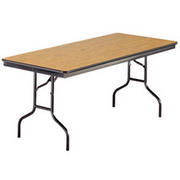 6ft Banquet Table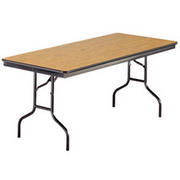 Set of (2) Cocktail Tables - 42 inches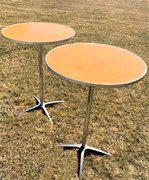 Kiddie Tables and Chair Package - Blue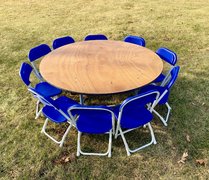 Just about every party, celebration or event needs our comfortable and elegantly designed table and chair rentals Boston. Don't forget the most important part of planning your event when thinking of places for your guests to sit and eat as well as storing party items on. We know the problem today is that a table and chair rental Boston, at least the ones with the latest designs, are pretty hard to find. Most businesses have pretty much the same tables and chairs we've been seeing and using for decades. That's why at Busy Bee, one of the leading brands in the party rental industry, we decided to shake things up by offering our clients both conventional (run-of-the-mill) chairs and tables as well as one that of the latest design. In other words, ours is not your regular table & chair rentals in Boston, but we still have them if that's what you want.
We've taken cheap and often boring table & chair rental in Boston and spiced them up, offering our clients many options. What's more is that despite the many options, our tables and chairs are competitively priced. While the prices vary depending on what you choose, adding variety is one of the keys to organizing a memorable Boston party.
Our assortment of tables & chairs at Busy Bee Jumpers includes table and chair rentals Boston MA with various types that don't fit into a particular category. Also, our table & chair rental Boston are available in different heights, lengths, finishes and shapes, so regardless of what you might have planned, we have the right ones for you. That said, if you have trouble making a decision, our team can help you choose the right table and chair rentals Boston, based on the nature and size of any Massachusetts event.
A Leading Source for a Chair Rental Boston
No event is complete without chair rental Boston. In fact, we tend to tell clients that chairs are more important than tables. However, depending on the nature of your event, you might want to rent bar stools, chairs or benches. We've also got some uniquely designed ones as well. Our chair rentals in Boston also include plastic folding chair rental Boston MA, both the conventional types you've been seen for years and some high-quality ones too.
We can also help you find chair rental Boston that suit the type of tables you want to hire. That said, sometimes clients may want to hire comfortable chairs, which aren't apparent in the pictures posted on our website. If you need help choosing a comfortable chair rental in Boston, our team will be more than happy to help.
We Deliver Chairs Along with Table Rentals Boston and Beyond
We have over the years delivered chairs and table rentals Boston to hundreds of homes for a myriad of parties and events. We've delivered tables and chairs to the smallest and the largest, most prominent events in the city. That's why we are the table rental company of choice for charities, schools, public parks etc. However, as a professional company, we treat all clients equally. Whether you hire a single table with four chairs or dozens of table and chair rentals Boston, we deliver them on time and help set them up if needed. Here you will find plenty of inventory that includes folding tables, farm tables, cocktail tables and various other types to make your next event fancy.
We deliver across Boston to areas such as Beacon Hill, Charlestown. Dorchester, etc. Our team will ensure that your chair and table rentals Boston, Ma in the city are delivered directly to your doorstep. Also, we don't charge for delivery, and there are no hidden charges/costs associated with our service. That way, you can rest assured of timely delivery and rentals that are within your desired budget.
How to Book A Table Rental Boston or a Chair Rental Boston?
Today, we have loads of choices when it comes to table rental Boston and matching chairs. Over the years, we've amassed a pretty large selection of table rental Boston and chair rental Boston. That said, if you ever find yourself lost, we will be happy to assist. We have also made booking the tables and chairs you need quick and easy while still being affordable. Everything can be done directly via our website.
Here is how our system works:


Select your tables and chairs


Choose Date and Time


Enter Customer and Event Information


Pay Deposit and Digitally Sign Contract


Once you complete the process above, we will receive an automated confirmation email. After which, you will be sent a reminder a day before the planned table rental Boston or chair rental Boston. That said, if you still need help, maybe you want to adjust your order or have a question, feel free to get in touch with us.
Get the Best Table & Chair Rentals in Boston MA
Want to hire a set of tables rentals with chair rentals in Boston for an upcoming party? Choosing us ensures that you're treated to a large selection of furniture, accompanying lighting and another décor. Depending on the party you're responsible for organizing, we are pretty sure you'll find everything right here at a competitive price for all table & chair rentals Boston. After all, we are the most trusted party rental service in the city.
You also don't need to worry if your event isn't scheduled to take place in Boston. We will deliver your tables and chairs in addition to anything else you rent from us to surrounding areas like Ashby, Groton, Pepperell, etc. We also service the following zip codes around Boston such as 01431, 01450, 01463, etc. you can also check out our complete delivery area and map. Furthermore, you can always call for more information during and after booking your table and chair rentals.